In the last edition, I promised you Developer Marketing lessons from my trip to Japan - you'll find this at the end.
We also have:
An update on a DevTool launch and some thoughts on validation

Takeaways from four Scaling DevTools episodes, including Ramiro from Supabase!

Summaries of two great talks I watched this month from swyx and Phil Leggetter.
---
Validating my DevTool idea
I am working on validating a DevTool idea for a problem I encountered in my last job as a mobile developer. The problem is this - we spent a huge amount of development time making minor changes as directed by the marketing team.
We (myself & Nick) feel confident about this but we are working on validating it.
We decided the first step was to launch on Reddit (thanks Matija for the idea). Here's what we did:
We focused on r/reactnative. We're both React Native devs (& Nick is a really good RN dev) and so we started to engage in the subreddit and answer questions. One of Nick's responses got over 20 upvotes.

We looked at previous product launches in the subreddit and found that videos + 'looking for beta testers' had a history of doing well

We made sure to follow all guidelines - no linking to landing pages or self promotion etc.
​
The results
26k impressions & 100+ upvotes (4th of the week)

3 direct messages asking to be beta testers

Several supportive messages

Several useful clarifications

Discovered a very similar product we didn't know about

Two questions on our open source strategy
Lessons/next steps
It's exciting to see that there is strong interest among individual developers. But it doesn't really validate the idea yet.
We watched this great video from Rob Walling on validation and now we're focusing on finding one or two companies who are so passionate about this problem that they're willing to come on the journey with us.
---
Community helps you cross the chasm
The idea of crossing the chasm is a big deal and will be a focus for my learning in the coming months.
Some developers will adopt technology because it does a job. But many others - the mainstream market - care about things like:
What are the job opportunities with this technology?

How is the third-party ecosystem (e.g. libraries)?

Do my friends use it and what do they say about it?
Crossing this chasm at an early stage is a huge challenge. Community building builds social proof and momentum so that the mainstream market feels like it's not such a risky technology to adopt.
​This came from my notes on an amazing talk by swyx.​
---
Which activities will help you reach YOUR goal?
To grow your DevTool, the list of different approaches is practically infinite. I like the AAARRRP framework from Phil Leggetter because it helps you to narrow down your efforts in a systematic way.
Phil suggests focusing on some (but not all) of seven possible goals e.g. Awareness, Activation and Product.
Then look at all possible activities and see which of them will help you reach your goal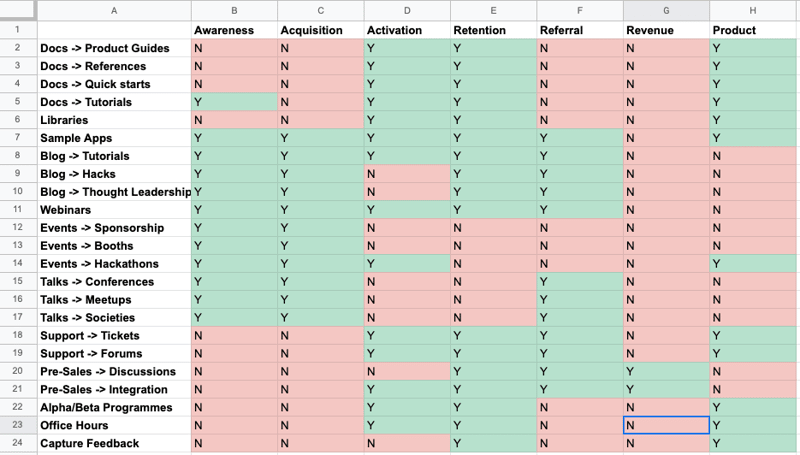 Then you can look for activities that meet multiple goals and give each activity a score.
​You can find my notes on this here.
P.s. thanks to Carla for recommending this talk
---
Thomas & Julius from Storyblok
I really enjoyed this episode with Storyblok - a headless CMS.

We got to record in person and they were even kind enough to invite me to dinner with their team.

In this episode Thomas and Julius share how solving problems for both developers and marketers has led to very, very fast growth

Key takeaways

Storyblok meets the needs of both developers and marketers really well and that's been the foundation of growth.

Relationships with industry analysts like Gartner and Forrester offer big opportunities. Especially once you start to look beyond early adopters.

Work closely with your partners. Storyblok even offer unrestricted marketing budgets to partners to promote the work they do together.
​Supabase is making a huge splash right now so I was surprised that Ramiro is the only full-time marketer.
​
Ramiro is a veteran of the developer tools space so it was eye-opening to hear how he thinks about marketing.

Key takeaways

Building a strong brand is underrated in the DevTools space

Ensure founders are heavily involved in marketing and community building

Listen and engage with the community and amplify their voices

Launch weeks are a great way to showcase product and features to the community
---
Kyle from Gravity
​Kyle makes fun things all day and then uses them to market Gravity his SaaS boilerplate. And it's working - Kyle is at $25k MRR and he works completely on his own. And he lives by the beach in paradise

Key takeaways

Use testimonials to build trust. Kyle showcases influential testimonials and features reviews on TrustPilot (a third party source more difficult to game).

Kyle used Dagobert's Twitter course and has claimed to receive 4x impressions since following the strategy.

Kyle also uses YouTube as a way to build trust for the product as well as Kyle's expertise

Building cool things with your main offering can be a great way to market

​
To me, Ed is a bit of a hero in the DevTools space. Ed has bootstrapped OpenCage to provide geocoding for many clients while maintaining only two full-time employees (the founders).

Ed shares insights on bootstrapping, playing long games and how to do marketing when people "either need it or they don't"

Key takeaways

Transparent pricing can be a big advantage

Understand why people buy and look for the visible patterns

OpenCage is comparable to a utility company. So vast majority wouldn't listen to a geocoding podcast. So OpenCage don't force that marketing relationship and instead focus on being active and supportive to the communities they rely upon.

​
---
Two Developer marketing lessons from visiting Japan
1) Naturalness
In Japanese gardens, a lot of effort is expended to create a feeling of naturalness - hiding the hand of the designer.
This also works well in developer marketing. The best content has a feeling of whimsicalness.
Rather than obviously emerging from some ahrefs keywords analysis, good content feels like it arose naturally from a pure interest in the subject matter.
2) Specialisation
Most Japanese restaurants do one type of food and they do it well. You'd be very hard-pressed to find a place that does sushi and ramen for example - it would probably be treated with suspicion: "how can they do both well?".
As DevTools - especially at the beginning - we should have conviction in saying no to the things which aren't helping our core audience to solve the problem we set out to solve.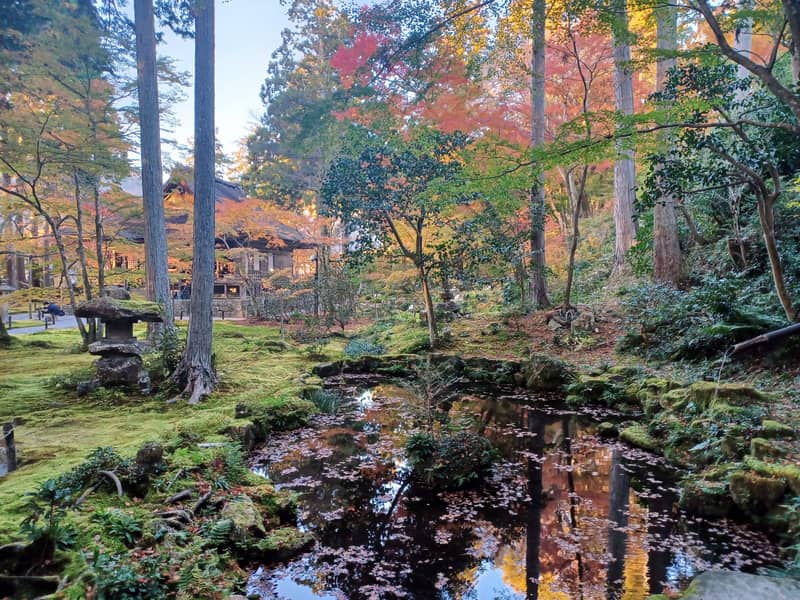 ---
Finally, if you enjoyed this newsletter. Would you consider forwarding it on to a fellow DevTools aficionado?